It is sunny and pleasantly warm today. My dahlias are finally looking good (after being stressed by the unusually hot, dry summer) and frost warnings are up for Sunday night! I took this photo of a bouquet of 5 different dahlias. I think it came out nicely as a dramatic pattern in autumn colors of deep red, orange and gold on a black background arranged to create an almost abstract design. The poster is available from
Bebops
.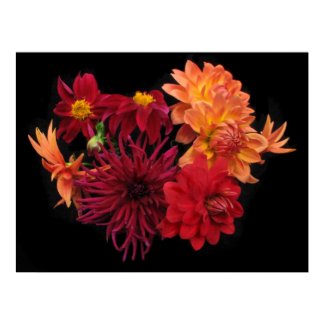 Dahlias
by
Bebops
Browse other
Dahlia Posters
I think this is a gorgeous mousepad by
CheyBaby Designs
. A plethora of pansies cover the area with their flowering glory.
Pansies Mousepad
by
CheyArtist
Create your own
mousemats
with zazzle.com
What a lovely design by
Kayatiyu
! A mass of chamomiles creates a pleasing floral design on cheerful Keds garden shoes. An attractive, fun design, perfect for garden parties or outdoor adventures. Available on other shoe styles including mens and kids. From a watercolor sketch titled "Chamomiles", © Sandy Long.
Chamomiles Garden Slip Ons
by
Kayatiyu
Browse more
Kayatiyu Shoes