The autumn foliage is really taking over as the chief eye-catcher around here. This is not a flower photo but it was taken just outside my garden. I spotted this tiny bird and put him on a poster for
Bebop's Place
. I added a filter to soften the lines.
This poster features a lovely little goldfinch perched on a branch, surrounded by brilliant autumn foliage. He is as small as the leaves of the ash tree and actually blends in to form an abstract composition of red, orange, green, yellow, black and white.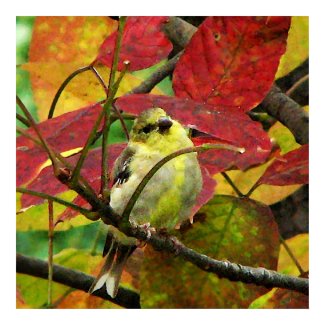 Goldfinch and Autumn Leaves
by
Bebops
Browse more
Gold Posters
Now to some flowers...
Splash some summer fun into someone's day with this bright butterfly flower card by
Scruff Shop
! Created from an original hand drawn illustration, the design features a funky flower surrounded by happy hearts and butterflies, in vibrant tones of pink, orange, sunshine yellow and baby blue.
Here is an exquisite note card by
Octopus Love
with yellow flowers on a brugmansia tree. Brugmansia are trees also known as Angel's Trumpets, because of the large trumpet-shaped flowers which can grow up to 20 inches long. These flowers come in a variety of colors, including white, yellow, pink, orange and red. They have a delicate scent with lemon overtones, which is quite striking in the early evening. Although beautiful, Brugmansia plants contain poison, which can be fatal if ingested.
Brugmansia Flowers
by
OctopusLove
See all other
cards
at zazzle.com