The other day I went to the pond to take photos of butterflies and look what I found! This poster, now available from
Bebops Place
, features a tiny fire ant very busy feeding on the pollen of a goldenrod blossom on a sunny summer day. The yellow flowers and green leaves create a luminous background to set off this little creature. I'm in the process of putting this guy on lots of products. More will get added as the day progresses. Check out
Bebop's Fire Ants
if you are interested in all the ways I can come up with.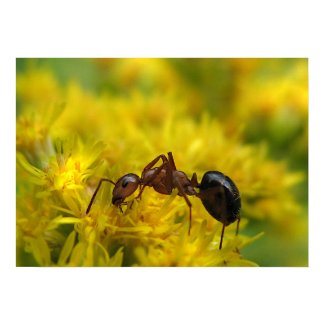 Tiny Ant on Goldenrod
by
Bebops
See more
Fire Posters
Okay, now for the roses...
Make your letter or card extra special with this lovely "thank you" stamp available from
Funcards
. You can also change the text to something that's more appropriate in your situation. Photograph by Arnolda © all rights reserved. Check out the matching postcard to go with this stamp. It, too, is beautiful!
Lovey pink rose "Thank you" stamp
by
Funcards
Create
custom postage stamps
with zazzle.com
Use your imagination with this wonderful poster by
QuattroDesign
: a hand drawing of a butterfly that is sitting on a painting of a rose. A bit of Escher style.
imagination
by
QuattroDesign
Browse more
artwork
on zazzle