Oh dear, Friday the 13th. Hope we all dodge the gremlin bullets.
This is way off the subject of roses and gardens, but I wanted to share a photo I took yesterday evening at sunset and turned into a note card for
Bebops Place
. This card features a magical play of light and color on a hilltop at sunset. It had been raining all day. The sky began to clear just as the sun was setting. The foreground begins with a hint of green, then a layer of golden weeds, and then a field of ripening corn ending in a hedgerow of trees. Distant hills in the mist can be seen beyond the field. The partly cloudy sky creates a glorious pattern of pink, gold, yellow, orange, mauve, blue and white.
Hilltop at Sunset
by
Bebops
See more
Card Cards
Okay, here are some roses...
I love this card from
Beachwalker
. It's definitely different from the standard hearts and flowers approach. Romantic black card with a distressed heart and text makes for an edgier greeting card - maybe even goth? Customize with your sentiments if you wish!
This card from
Botany_Boy
features the marvelous artwork of Pierre Joseph Redoute (1759-1840). I love the old roses and this Rosa centifolia foliacea is just a wonderful example.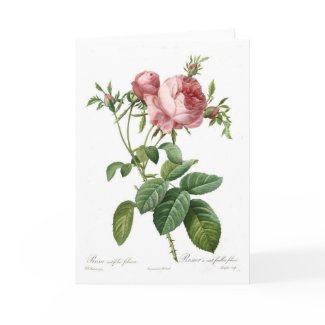 Rosa centifolia foliacea
by
Botany_Boy
See other
Rose Cards