I baked a wonderful tart from all the blueberries I picked. It was just so good and pretty on the table with these flowers that I grabbed my camera and made a card for
Bebops Place
! This note card says "Wish you were here!" Let's share this luscious freshly baked tart made with just picked blueberries! A vase of pink and orange zinnias and golden black-eyed Susans decorates the deck table which is still wet from a morning rainstorm.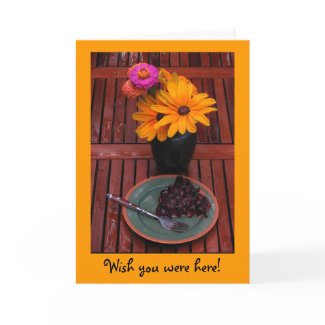 Blueberry Tart & Flowers
by
Bebops
View more
Bake Cards
Here are more lovely rose products...
Memories
from the 'words of hope' collection of
Clean_world
. These simple but elegant designs look great for any occasion, and they are so easy to customize.
This mug by
Wsdvalley
has such an elegant, sophisticated design. Perfect for anything frosty cold or piping hot. Dishwasher and microwave safe.
Golden Roses
by
wsdvalley
personalised mug
with zazzle.com