It has gotten much cooler today and quite windy. I think I'll go to the woods to look for mushrooms later.
Here are some lovely rose products for the day...
I just love this gorgeous postcard from
TheGardenPages
. Antique reproduction of pink and yellow rose flowers botanical artwork by famous artist Pierre Redoute with blue butterflies. Framed with elements from antique manuscripts. The flowers are listed on the artwork; Persian yellow roses (rosa Lutea) and pink tea roses (rosa indica). Framed with elements from antique manuscripts.
This lovely poster print by
Jamene
is a color photograph of a blooming orange rose. This picture was taken after a rainstorm, so there are raindrops glistening on the petals.
Blooming orange rose raindrops poster print
by
Jamene
Shop for
art
available at zazzle
This sticker available from
Tempermental Musician
has such a pretty, whimsical design of a hummingbird rose clef. Music art by Arianne.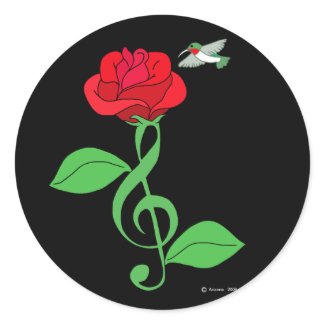 Hummingbird Rose Clef
by
TempermentalMusician
Create a
custom sticker
on Zazzle