The heat continues here, though it is supposed to break by tomorrow. My zinnias are really beautiful this year. I made a poster for
Bebop's Place
which features a single dark red zinnia flower. The petals are a deep scarlet and are set off by the plant's green leaves and the luminous green and yellow foliage bathed in sunshine. This plant is at least four feet tall!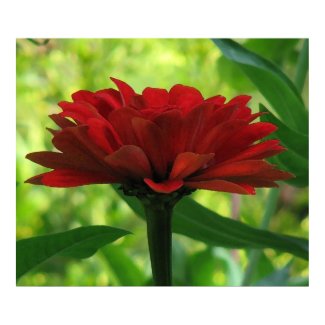 Dark Red Zinnia
by
Bebops
See more
Asteraceae Posters
Now for the roses...
Love Is In The Air
, a gorgeous stamp by
Holiday Hearts
. Two variations on this Love design: one with simply the word "Love" in raspberry pink embossed script and the other with the same raspberry pink embossed script accompanied by a beautiful pink tipped rose and an abstract swirl raspberry colored background highlighting the word "Love" and the pink tipped rose.
Love Is In The Air
by
holidayhearts
View more
stamps
available on zazzle.com
The contemporary graphic design of this mouse pad by
Funride
will suit the most sophisticated soul. Add your own words and even a background!