Autumn is in the air and we pressed another 14 quarts of apple cider yesterday. It may be too early to think about spring, but here is a calendar that really celebrates springtime. When the daffodils bloom, we know that spring has arrived in all her glory! I created this 2011 Daffodil Calendar from my original photographs of some of my lovely narcissus blooms for
Bebop's Place
to celebrate the season with twelve exquisite photographs of narcissus varieties.
Daffodils 2011 Calendar
by
Bebops
Make your own
full color calendars
online at zazzle
This mousepad features a red flower blossom with an intricate pattern of long tendrils of petals. Bright red color tinged with yellow in a soft out of focus background of green leaves. Photographed by
DigitalDreambuilder
in Southern China.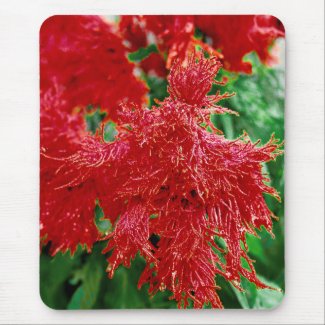 Tropical Red Flower Floral Closeup
by
DigitalDreambuilder
Make a
custom mouse pad
at zazzle
Looking for soothing, calming business cards? This template by
Alina's Pencil
has two white water lily pictures on a mottled green background. The template is set up so you can easily replace the sample words with your own.
These are beautiful for massage therapists, spa, life coaches, yoga teachers, therapists, salons, or beauty products businesses. Get custom business cards with a professional look, without the hassle of hiring a designer.