I have already been out picking green beans and cucumbers. Later, I think I'll go into the woods and look for mushrooms.
Yesterday I mentioned that all my rugosas are blooming in the garden. I took this picture of Pink Grootendorst and made her into a poster for
Bebop's Place
. I love the way the soft pink petals blend into the green and yellow pastel tones of the leafy background. She is a repeat bloomer, gracing our garden with her beauty all summer long. I have digitally enhanced my original photograph to create a watercolor effect.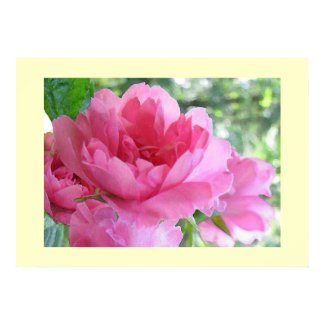 Soft Pink Rose
by
Bebops
View all the
artwork
on zazzle.com
Here's a very elegant wine colored vintage rose wedding invitation by
Indolilly
. When you click on the product, you'll see matching Save the Date and RSVP cards.
This watercolor painting of a light yellow rose was created by
PsyborgAli
. Drawn in ink, and then painted with artists quality watercolors. A single pale yellow rose with a sky blue background.