I sure do love summer! It's a time of sensual delight. When I wander around, the brilliantly colored flowers are a joy to the eye, the perfume of the lilies delights my nose, and the singing of birds and croaking of the frogs are music to my ears. The soft, warm air feels so good on my skin.
Most of my roses are done blooming but I took this picture yesterday of tiny red Meidilland roses with stargazer lilies in the distance. So far, I've only made this poster for
Bebops Place
but I plan to work on more Zazzle products with the image today.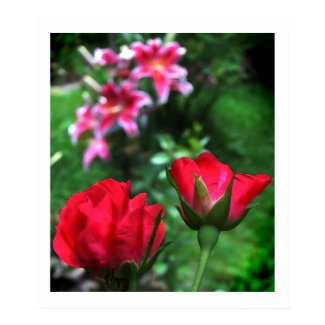 Roses and Lilies
by
Bebops
More
posters
on zazzle
Card4you
offers this elegant profile card with customizable design and a beautiful flower ornament. Perfect as Introduction Card, Business Card or small Invitation Card. Change text font & color, add or remove graphics, add company logo etc...
This one's a little different.
ruralfrance
offers a pale pink dog rose Name Day card in Czech. Všechno nejlepší k svátku! Best wishes on your name day. She says, "The text cannot be customized because of the accents, but if you would like some different text on any cards, please let me know by the 'send message' in the side bar."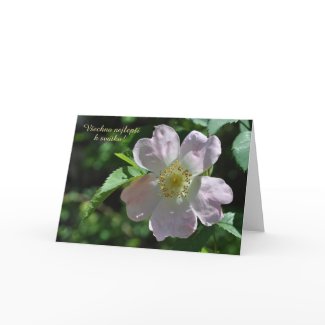 Name Day card in Czech
by
ruralfrance
Design a
custom notecard
with zazzle.com