One more cool, drizzly, cloudy day and then we are supposed to get our sunny summer back. I picked yet more beans and got them in the freezer.
This guy is definitely not a rose but I wanted to share him. It's a design I was working on for
Bebop's Place
last night. This brilliantly colored poster features a shiny green, yellow and black grasshopper perched on the purple center of a flower with gorgeous red petals.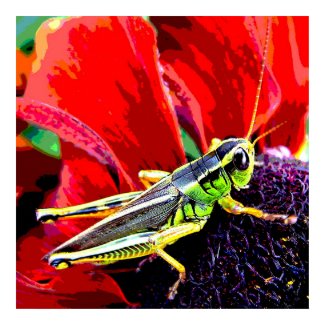 Grasshopper
by
Bebops
View other
art
at zazzle
Okay, now for some roses...
Here's a spaghetti strap t-shirt available from
Designs by Kelly W. Patterson
, featuring a print of an original painting by Kelly W. Patterson, entitled "TJ's Rose." The painting depicts a single red rose, signifying loyalty, passion, and undying love, inside a clear glass vase with a blue background, rendered in a impressionistic impasto style using a palette knife. It was originally created as a Valentine's Day gift.
Ask those near and dear to you to be in your wedding with this Coffee Rose design from
Will you be my...
incorporating a single rose against a satin background. You can change it for any member of your wedding party, Maid of Honor, Reader, Junior Bridesmaid. Send out matching invitations to all.