Today is looking like a gorgeous day - a little cooler and lots of sun. We are starting to find a few boletus mushrooms in the woods. We had a fantastic omelet with them along with some fresh herbs from the garden yesterday.
Now to the roses...
What could be lovelier than a bouquet of old-fashioned roses? This binder from
Bebops Place
displays an exquisite design of red, pink and white antique roses set off by a black background. What a special way to keep your memories! Customize the text to suit your needs.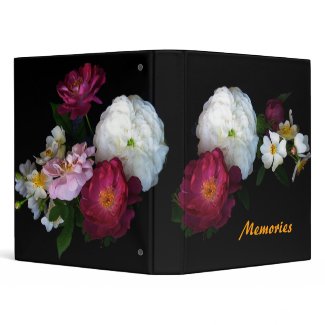 Old Fashioned Roses
by
Bebops
See other
Lovely Binders
Wow, what an elegant "save the date" stamp from
Holidayhearts
! Two red roses on a gradient silver background with silver gradient framing. Customize with your choice of text and fonts.
Red Roses and Silver
by
holidayhearts
Browse more
custom postage
available at Zazzle
Here is a lovely pink rose poster from
ritmophoto
. This is a wonderful photograph.