Yesterday I harvested more beans, broccoli, blueberries and basil. Got it all in the freezer and plan to make a blueberry pie today.
All that didn't stop me from continuing my bookmark project. What could be lovelier than a bookmark decorated with my favorite bouquet of old-fashioned roses? This marker I made for
Bebop's Place
displays an exquisite design of red, pink and white antique roses set off by a black background. The image is repeated on the reverse side.
Old Fashioned Roses Bookmark
by
Bebops
Online
business card designer
at zazzle.com
This is a lovely birthday card by
Ruralfrance
of a pink rose in the snow. How can something as delicate as this rose be so tough and resilient?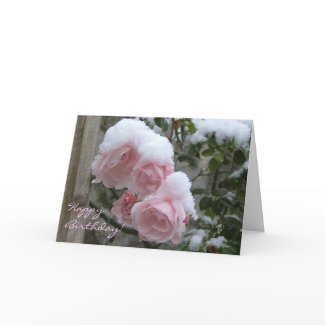 snowy pink rose, Happy Birthday!
by
ruralfrance
Design a
note card
on Zazzle
This apron by
SusansZooCrew
will sweeten your kitchen work! It's a single yellow rose flower cutout against a white background with the word Rose underneath in yellow and orange shading.