My Mirandy hybrid tea roses are putting on second blooms! Very exciting. And here are more gorgeous rose products from the Zazzle artists:
ullahennig
took a photo of this fantastic pink rose at the Gardens of the World, Berlin-Marzahn and made it into this great card.
This mousepad by
SusansZooCrew
would be an interesting addition to a computer station: a subtle bouquet of roses tinted purple.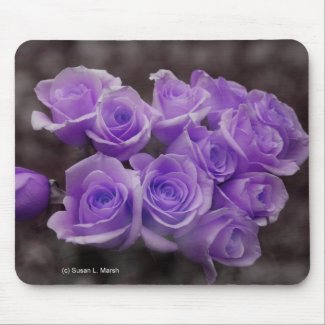 Purple rose bouquet
by
SusansZooCrew
Truer words were never spoken,
Funcards
. This tote is elegantly designed and the sentiment is right on.